Adult Summer
---
Wednesdays
Contact the Parks and Recreation Office for more information. 262-284-5881
---
PGA Certified Golf Professional Instructors will be teaching you how to get golf ready this spring at the Bog Golf Course! They will help you work on your golf fundamentals using a state-of-the-art practice facility. Fundamentals include: Pre-swing fundamentals such as grip, aim, posture and set-up. In-swing fundamentals include: club path, timing, tempo, and balance. Short game skills like chipping, pitching, and putting will also be covered. You will even have the opportunity to view your swing using high-speed video. Don't delay! Sign up is limited. Classed offered on Wednesdays OR Thursdays. For ages 18 years and older. At the the Bog Golf Course (3121 Hwy I, Saukville)
May 26 & June 2, 9, 16, 23
May 26 & June 2, 9, 16, 23
May 27 & June 3, 10, 17, 24
May 27 & June 3, 10, 17, 24
---
Contact the Parks and Recreation Office for more information. 262-284-5881
---
A paddle sport created for all ages and skill levels.

Played with a paddle and a plastic ball.

The rules are simple and the game is easy for beginners to learn.

Play can develop into a quick, fast-paced, competitive game for experienced players.

Combines many elements of tennis, badminton and ping-pong.

Played both indoors or outdoors on a badminton-sized court and a slightly modified tennis net.
Season Pass: $20

(help out our coordinator by pre-paying for the season, thank you!)
Fee:
$3/visit
Days/Times: Thursdays at 6:00pm-8:00pm (some dates may vary, see schedule below)
Location (indoors Sept-April):
Dunwiddie Elementary School
.
Additional Pickleball Resources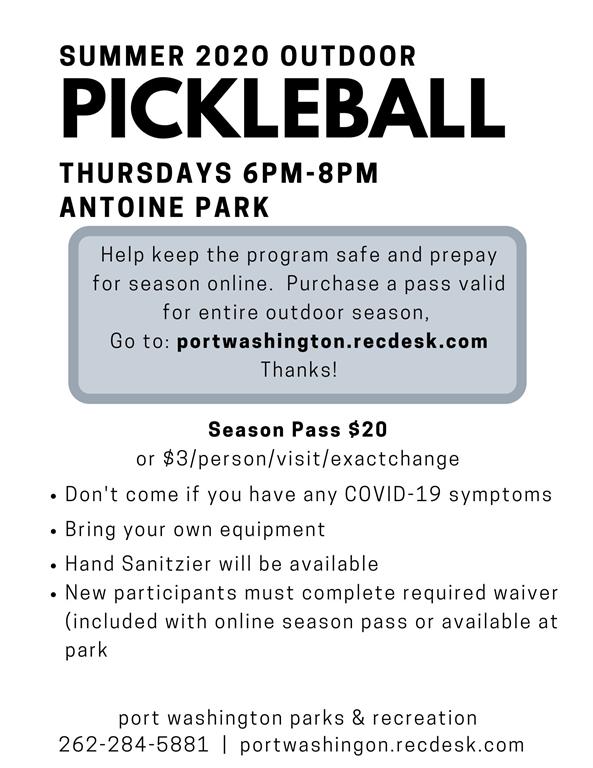 ---
Women and men of all skill levels are invited to participate in our week night Pick-Up Soccer League. Beginners and past players are welcome. In order to keep costs down the games do not have referees. It is up to each individual to play safely and with regard for their opponents. There are no slide tackles allowed and body contact is strictly prohibited. Participants should bring their completed registration form and payment with them to the field. Ages 18 & up.
Mondays at Meadow Park 1400 W Portview Dr
---
Get in shape this summer with a morning sunrise swim. New workouts created each day but feel free to do your own routine as well.
Times: 5:45am-7:30am
Drop-in Fee:
$3 Resident/ $5 Non-Resident
25 Mile Swim Challenge!
T-shirts will be awarded to those who accumulate 25 miles or more by 8/13
50 Mile Swim Challenge!!
Swim caps will be awarded to those who accumulate 50 miles or more by 8/13
---
Ages: You must be entering 7th grade to audition
Audition Packets Available at Rec Office: May 15
Auditions: 5/26 or 5/27 at 6pm PWHS PAC
Fee: If you are cast in the show there will be a $50 Costume Fee
Rehearsals: 6/1 thru 7/23 M-Th 6pm-9pm
Performance:
7/24 7pm, 7/25 7pm, 7/26 2pm matinee
Ticket Prices: Purchase advance tickets at Rec Office 201 N Webster 8:30am-4pm M-F
Children (10 & under): $8
---