Water Safe Thursdays
Even though the pool is not open, we are committed to providing our community with great ways to stay safe around the water this summer.
We have created #WaterSafeThursday, where every Thursday we will be posting a safety topic for both Adults and Children. The posts will have videos and links to great resources for water safety.
Here is the schedule of safety topics we will be sharing. We encourage everyone to take a look at the information we post, it could save a life!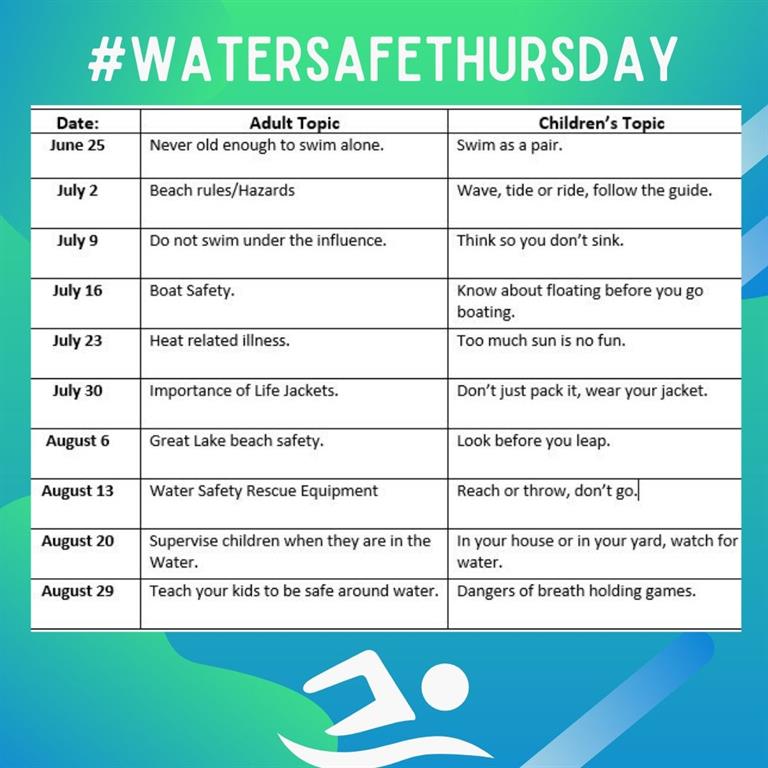 ---
Swim lessons at Pirates' Hollow follow the American Red Cross curriculum. Along with teaching children how to be safer in and around water, we also introduce them to life skills of self-confidence, perseverance, and courage. We are committed to providing an environment where your child feels safe enough to try new things and accomplish goals. All of our instructors are Water Safety Instructor (WSI) certified and lifeguard certified by the American Red Cross. Please review all of the swim lesson information and level descriptions carefully to ensure you enroll your child in the correct level!

What are the prerequisites for each level?
The prerequisite for each level is the successful demonstration of skills from the preceding level. The skills are listed in each level's description on the following page.
When should I anticipate my child passing into the next level?
We advise you NOT to anticipate your child passing. Swim lessons are not like school and students progress at different rates. It is not unusual for your child to repeat the same level several times. Try not to compare your child with others, instead concentrate on their ability to physically and mentally perform each skill. If your child is registered for the wrong class, transfers will be made only on a space availability basis.
There are no make-up lessons held due to inclement weather, unless there are less than 6 total sessions held. Classes could be cancelled due to the following reasons: 1) moderate to heavy rain, 2) thunder OR lightening, 3) air temperature below 65°F, 4) mechanical or facility issues. Every effort will be taken to make decisions on cancellations one half hour before each lesson starting time. Weather can be unpredictable and changes quickly, please call the Parks & Rec Office for cancellation information at (262) 284-5881.
Ratios of Instructors to Swimmers
Parent & Me 1:10
Skippers 1 & 2 1:6
Level 1-6 1:8
**Class ratios may vary due to enrollment or instructor
Private Swim Lessons
Our private swimming lessons give swimmers individual, focused attention, allowing them to learn swimming and safety skills quicker than in traditional group classes.
Requests for Private Swim Lessons will be accepted starting May 14 by submitting a

Private Swim Lesson Request Form

.
An instructor will contact you to schedule and confirm lesson(s) date and time.
Payment for all scheduled lessons are due 7 days before the start of the first lesson. No lesson may take place without prior payment.

Please schedule lessons wisely and contact our office with any necessary schedule changes. Be aware that lessons cancelled less than 24 hours in advance will still be assessed the entire fee to compensate the instructor for their time. Should an instructor need to cancel, the lesson will be rescheduled with no penalty to the swimmer.
Private Swim Lessons (30 min)

1 Swimmer

1 lesson package $15-R / $20-NR

3 lesson package $42-R/ $57-NR

6 lesson package $78-R/ $108-NR

Semi-Private Swim Lessons (30 min) 2 Swimmers w similar swimming abilities

1 lesson package $25-R/ $30-NR

3 lesson package $72-R/ $87-NR

6 lesson package $138-R/ $168-NR