---
Online Registration
This class will provide boy and girls ages 11 and older with the information and skills necessary to provide safe and responsible care for children in the absence of parents or adult guardians. Instructed by a Certified American Red Cross Babysitter Training instructor. Bring a bag lunch.
---
Come learn the art and skill set of gymnastics! Our classes stress safe progression and proper technique and are a fun way to learn new skills & techniques - incorporating balance, coordination and poise. Our instructors will help to improve these skills and techniques for children three years and older.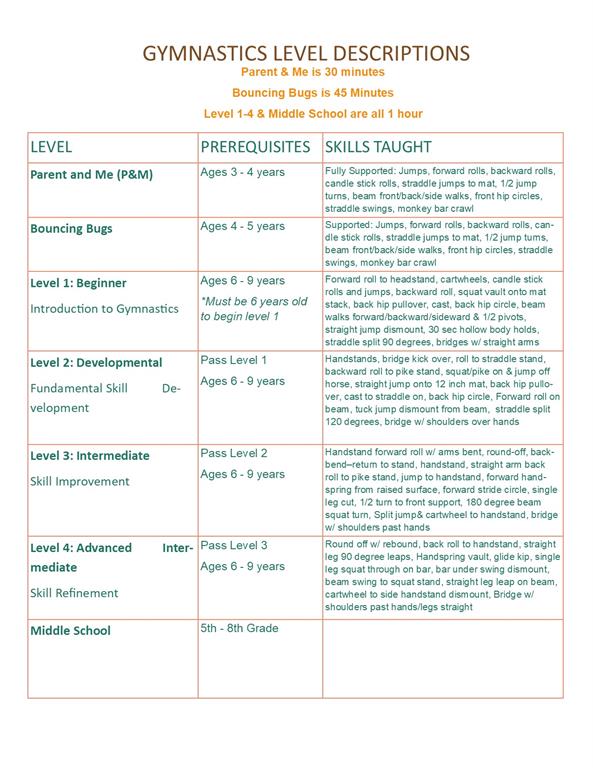 ---
All aboard! Join us on the Polar Express for a Magical Journey to the North Pole on __________. This is a joint program with the Cedarburg, Grafton and Port Washington Parks and Recreation Departments. This year our journey will be in the Cedarburg community at the Cedarburg Community Gym. Tickets are $6/person and go on sale October 28th. Purchase tickets at the participating Rec Dept Offices and their respective Port Washington State Bank branches.
Polar Express Flyer
Polar Express Ticket Order Form
---
Blue Harbor
Online Registration

Required Form

- Riding the Flow Rider requires this form. Copies also available at Rec Office
Join us for a fun afternoon at Rockin' Jump in Brown Deer.

Bus transportation, admission and socks are included.

Students should bring a bag lunch.

Date: Thursday - April 9, 2020

Bus Departs @ 11:20 a.m. from TJ Middle School

Parent Pick-up @ 3:00 p.m. at TJ Middle School

Registration due: Fee, registration & waivers due by April 6

REQUIRED BEFORE PARTICIPATING:

a) Complete Online (https://rockinjump.com/browndeer/)
OR
b) Forms Available at Park & Rec Office (201 N Webster) OR on our website (Programs & Events/Youth/Winter)

11:05am- TJ Middle School is released for the day

11:20am- Bus will depart from TJ Middle School

12:00pm- Bus will arrive at Rockin' Jump

12:00-2:30pm- Jump, Jump, Jump

2:30pm- Bus departs to return to TJ Middle School

3:00pm- Parent Pick up at TJ Middle School parking lot

***WE MUST HAVE 20 KIDS REGISTERED TO RUN THE TRIP***
Registration Deadline: Thursday December 3rd
Two Step Registration
Step #1 - Port Washington Recreation Department
(b) Check email for Sunburst Portal instructions and registration code. Allow for (1) business day.
Step #2 - Sunburst Portal
(b) Complete Sunburst registration and waivers
(c) Pay fees
Program Description & Eligibility
This is a fun 4 week program to learn and enjoy the exciting sport of skiing and/or snowboarding at Sunburst Winter Sports Park. In addition to the evenings listed below, the Ski and Snowboard Club Card gives HUGE savings on lift tickets and rental gear every day Sunburst is open.
The Port Washington Recreation Department's multi-week Ski & Snowboard Club is easier to register for today than ever before. Club members must be at least 5 years of age at sign-up.
Parent Meeting Nights
A Parent Meeting will be made available via a pre-recorded video this season. More details to follow.
Club Pricing
4 Week club program
Friday December 11 4:30pm-9:30pm Cancelled
Friday January 8 4:30pm-9:30pm
Friday January 22 4:30pm-9:30pm
Friday February 12 4:30pm-9:30pm
Friday February 26 4:30pm-9:30pm
Lift Ticket $75.00
Lift Ticket, Lesson $115.00
Lift Ticket, Rental* $95.00
Lift, Rental*, Lesson $135.00
Helmet Only $20.00
*Helmets are included with all equipment rentals
Helmets
Helmets are not required by Sunburst but their use is highly recommended. Helmets are included with all equipment rentals.
Club Cards
Club Cards are issued to each Club member and are non-transferable. The Club Card permits the member to obtain a lift ticket for $20.00 or a lift ticket and rental for $30.00 on non-Club days/nights. The Club Card must be physically presented in order to receive this discount. Club Cards will be distributed by Port Recreation Department advisor.
Make-up Day(s)
Please be aware that we do not guarantee the quality of these club dates. As long as Sunburst ski hill is open, club dates will remain as scheduled. However, if inclement weather forces Sunburst to close on our club's
scheduled day, an notification email and text will be sent out by 3:00m and a make-up day will be arranged. Should a Club member miss one of their Club days while Sunburst is open, they will not receive an individual Make-Up Day.
Lift Tickets
Club members will receive a yellow tag which must be worn and visible while they are at Sunburst for Club sessions. The tag is printed with the person's name, advisor's name, group name, dates and times of the club, lesson status, and parent's phone number. The tag serves as their lift ticket on Club dates. Without the yellow tag they will not be allowed on the hill. If a Club member loses a tag or otherwise does not have the tag physically with them, Sunburst will issue a replacement tag for $5.00.
Lessons
The lessons provided will be Sunburst's zone lessons designed to teach larger groups. These lessons focus on Fun/Skills/Safety. Group lesson start times are at 4:30pm and 6:00pm. No registration necessary, drop-in and leave when you want.
Transportation
Transportation is the club members responsibility.
Micro Soccer (Ages 3-5) Online registration and more information
This is an introduction to soccer & exposes kids to the basic skills of soccer through fun and socially interactive drills and games.
Time: 5:30pm - 6:15pm
Beginner Soccer(Ages 6-12) Online registration and more information
Players will be divided into age/skill appropriate groups to work on fundamental soccer skills that will lead to improved performance and further enjoyment of the game.
Time: 6:30pm - 7:30pm