---
This class will provide boy and girls ages 11 and older with the information and skills necessary to provide safe and responsible care for children in the absence of parents or adult guardians. Instructed by a Certified American Red Cross Babysitter Training instructor. Bring a bag lunch.
Days: Saturday
Dates:
2022 Dates coming soon!
Time: 8:00 AM-3:30 PM
Location: Rec Center
---
2022 Information coming soon!
Safety Town is a nationally recognized program that teaches young school aged children how to navigate a variety of safety issues and helps them develop good safety habits that will guide them in making responsible choices.
The Safety Town program will be presented by Taylor Pride, who teaches Kindergarten at NOOSD. She will be assisted and supported by the Port Washington Police and Fire Departments. The Safety Town program will be held at Dunwiddie Elementary.
**Because Safety Town was cancelled for 2020 there will be an additional week available for 1st grade participants that did not get the opportunity to participate last year**
---
Learn motions, jumps, chants, cheers and sideline dances. Cheering will be supporting Buccaneers at home football games. Away games are optional. Open to both male and females enter 4th through 8th grade.
Days: Mondays and Wednesdays
Dates:
2022 information coming soon!
Time: 4:30 - 5:30 PM
Location: Rec Center
---
Days: Tuesdays and Thursdays
Dates:
2022 information coming soon!
Time: 4:00 - 5:30 PM
Location: Upper Lake Park
This camp will be offered for boys and girls entering grades 4 - 8 in fall of 2022. Runners of all abilities and skill levels are welcome to participate. Camp will meet each day at the comfort station in Upper Lake Park. Each session will begin with stretching and warm up exercises. Runners will have an opportunity to work on his/her running techniques and get in shape for their fall sport season while learning dynamic warm up exercises, stretches, strengthening exercises and some important nutrition tips.
---
The official youth flag football program of the NFL.
This program is a fundamental learning experience covering the rules, positions & team play. The most important concern is the safety of the participants. It is designed for minimal contact & adequate supervision for all children.
No Friend or Coach Requests.
Volunteer Coaches are Needed
If interested, please contact the Parks & Rec Office at (262) 284-5881, or stop in.
Each Player Receives:
Green Bay Packers reversible jersey
Official NFL FLAG football belt and flags
Free USA Football player membership
Location: Municipal Softball Field (next to TJ Middle School)
Practice Days: Saturdays
Game days: Mondays (1st & 2nd Grade), Wednesdays (3rd & 4th Grade)
Dates:
2022 information coming soon!
Time: 6:00-8:00 PM
Location: TJ Municipal Softball Field
5th - 8th Graders
---
Students will be introduced to the fundamentals of the game of golf. Those include: Pre-swing fundamentals such as grip, aim, posture and set-up. In-swing fundamentals include: club path, timing, tempo, and balance. Short game skills like chipping, pitching, and putting will be introduced. Learn how to play the game using a regulation golf course to test your new skills. Don't delay - Class size is limited. Students should bring their own golf clubs. Each student receives a participation gift. 4 Sessions to choose from.
Instructor: Andy Runkel, PGA Certified & Staff
Location: Meet at The Bog Golf Club, 3121 Highway I, Saukville
2022 information coming soon!
Dates:
Dates:
Time: 5:00-6:00 PM
Dates:
Time: 8:00-9:00 AM
Dates:
Time: 2:00-3:00 PM
---
Gymnastics lessons teach the foundations and help students develop basic gymnastics skills that are necessary for any advancing gymnast to succeed
Days: Wednesdays or Thursdays
Dates:
2022 information coming soon!
Time: Varies depending on skill level
Location: PWHS Gymnastics Room
Fees: P&M and Bouncing Bugs: $45 PWSSD Resident/ $55 - PWSSD nonresident
Level 1 - Middle School: $55 PWSSD Resident/ $65 PWSSD nonresident
On Thursday evenings the Port Washington Highschool Gymnastics Room will be set up for open gym time.

Open Gym offers an opportunity for participants to perfect skills gymnasts have, perform drills on their own to master skills they are working on and to have fun!


Staff will be present to SUPERVISE and MONITOR SAFETY. Staff will assist participants to the best of their ability, however DO NOT EXPECT SPOTTING ON SKILLS.
7th-8th Grade: 6:00-7:00 PM
9th-12th Grade: 7:00 - 8:30 PM
Season Pass Resident: $35
Season Pass Non-Resident: $45.00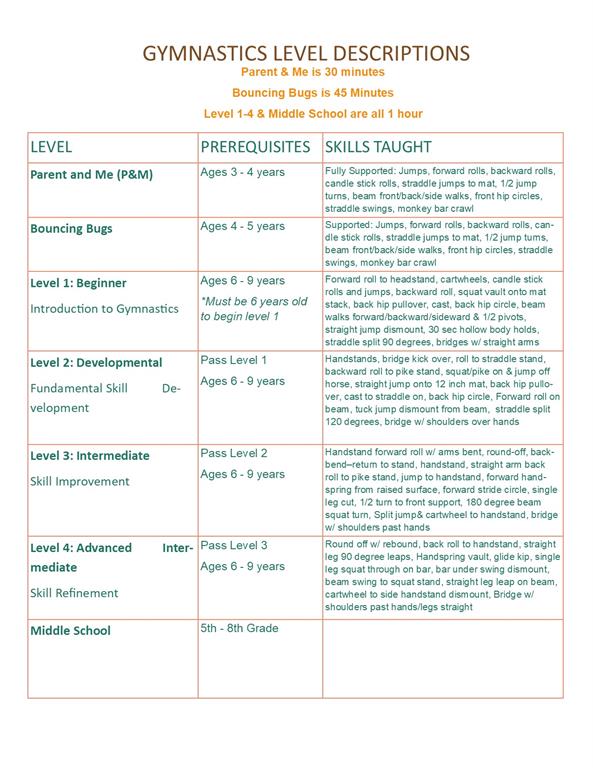 ---
Dates:
2022 information coming soon!
This is an introduction to soccer & exposes kids to the basic skills of soccer through fun and socially interactive drills and games.
Time: 5:30pm - 6:15pm
Location: Meadows Park, 1400 W Portview Dr
Players will be divided into age/skill appropriate groups to work on fundamental soccer skills that will lead to improved performance and further enjoyment of the game.
Time: 6:30pm - 7:30pm
Location: Meadows Park, 1400 W Portview Dr
---
Dates:

2022 information coming soon!
Days: Mon - Fri
Times: 12:00pm-4:30pm
Ages: 5-12 years
Fee: $200R / $250NR
Summer Park offers a safe, fun environment where park staff lead a variety of activities including, sports, games, swimming, arts & crafts, drama, field trips and good ol' fashioned summer fun! Give your kiddos a summer full of exploration, excitement, and the opportunity to create lasting memories and friendships! Children may attend as often as they would like, but they will not want to miss one day of great outdoor fun in the sun!

OPEN HOUSE: June 16th, 5:30pm-7:30pm Kolbach Park
This is your chance to find out more about this FUN program, meet the coordinator & Summer Park leaders, discuss weekly themes, events, daily procedures, etc! We'll lead games and offer treats too! Parent sign up is required.
RESIDENT RATE: The resident rate for the Summer Park program is available for City of Port Washington only. See rates below for
Village of Saukville registration rates
.
SUMMER PARK LOCATION - Kolbach Park- Jefferson St and Whitefish Rd
All other summer park locations have been closed.
FIELD TRIPS: NO BUSSED FIELDTRIPS SUMMER 2021 - We will hold walking field trips and at the park "field trips". More information will be available in the welcome email and weekly emails.
SPECIAL EVENTS: Every Wednesday there will be special events planned for the theme of the week. More information will be included in the weekly schedules.
PIRATES' HOLLOW - POOL DAYS: We will have ONE pool day at Pirate's Hollow. On this day parents are required to pick their child up at Pirates' Hollow by 4:30pm. NO additional fee for waterpark entrance.
WEATHER DELAYS & CANCELLATIONS: The Parks and Recreation Department has the sole discretion to cancel the day's activities due to inclement weather. Parents should have alternate arrangements in place in the event of emergency closing.
COMMUNICATION: Text alerts & emails will be sent out on a regular basis to notify you of important events, schedules, calendars, weather cancelations, etc.
TSHIRT: Each child will receive a t-shirt sponsored by Port State Bank
REGISTER - Online or in person at the Rec Office
Village of Saukville residents will be considered NON-RESIDENTS and will need to pay the NON-RESIDENT fees at the time that they register their kid(s) for the Summer Park program or any of our other programs. After the participant is fully registered and payment is completed the customer will receive a receipt. The customer will receive either a hard copy or an emailed receipt. They will then be able to provide this receipt to your Saukville Village Hall for a reimbursement that will

equal the Resident rate.
Village of Saukville Summer Park Fees:
$150 each additional Non-Resident Child

Village of Saukville Reimbursement Amount:
---
---
Tennis -
The focus of this class is to keep the kids moving while learning tennis basics and having fun! Bring a youth tennis racket and a water bottle.
Time: 9:00-9:45 AM
This camp will be offered to boys and girls of all abilities and skill levels. The camp will focus on making tennis an enjoyable and rewarding activity with an emphasis on recreational play. Beginners will learn fundamentals and rules while intermediate players will further develop their skills.
---
Teen Pool Parties
Teens only!

Come join us at the pool for a fun night with yard games, water games, discounted concessions items, raffles, glow in the dark give-a-ways and more!
2022 information coming soon!
7:00 - 10:00 PM
$4 per Resident/$8 per non-resident
Free with Pool Pass