Huntin' for Pumpkins
---
CORP Plan – 2021-2025
The Comprehensive Outdoor Recreation Plan (CORP) is used to guide the City in making decisions related to improvements at existing parks, new facilities, land acquisition, recreation trail extensions and improvements, and ADA requirements through the year 2021 and beyond. The City of Port Washington is currently in the process of updating its' Comprehensive Outdoor Recreation Plan (CORP).
The Parks, Recreation & Forestry Department has 2 meetings scheduled this fall. These meetings are a great chance to give feedback and ideas on how our City facilities should develop over the next 5-10 years. If you are not able to make one of the scheduled meetings to discuss ideas with staff, City residents are encouraged to fill out the on-line survey. Put your ideas/thoughts and comments out there! Your input is greatly appreciated.
Community Participation
Survey - Please take some time to complete the Survey available online. The Parks, Recreation & Forestry Department values the input from the community during this process. The deadline to complete the survey is November 2.
Public Input Meetings - The Parks, Recreation & Forestry Department will be hosting a Public Input Meeting on Monday, September 28, at 6 p.m. and on Wednesday, September 30 at 6 p.m. Staff will provide a brief overview of the City of Port Washington park system, and then open the meeting up for discussion on improvements or changes community members want to see at the parks.
Monday, September 28 at 6 p.m. at Upper Lake Park Area 1 (Beer Garden)
Wednesday September 30 at 6 p.m.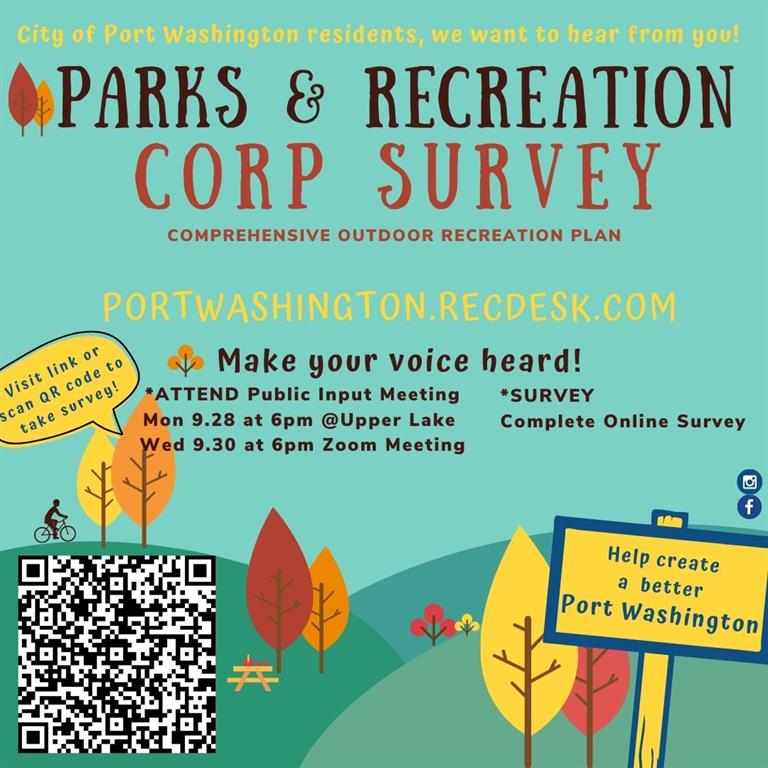 ---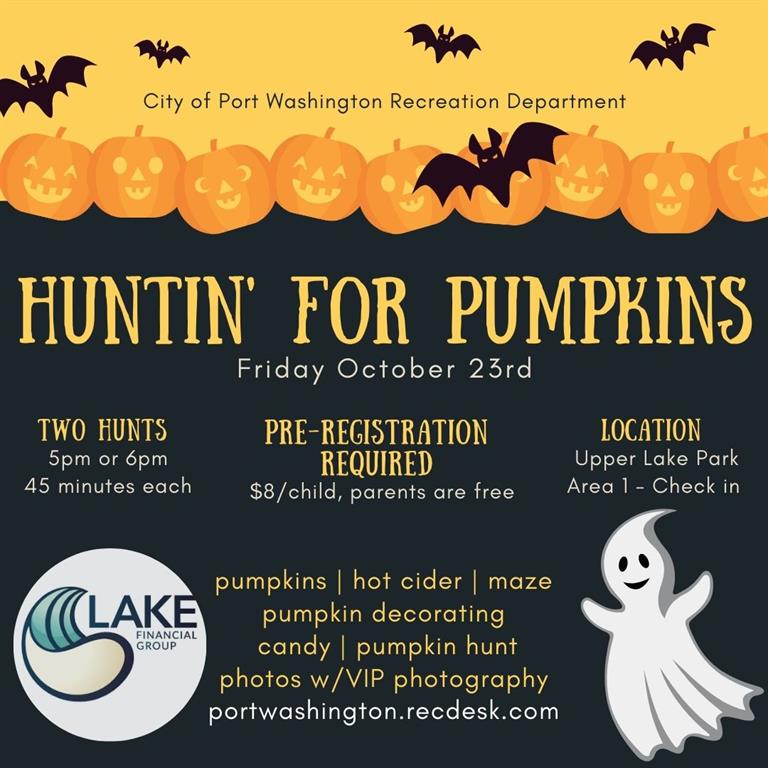 Participants dressed up in their Halloween costume, will hunt for their perfect pumpkin in Upper Lake Park. Pumpkins will be hidden throughout the south end of the park. To top off your night, each child will receive a ticket for hot apple cider redeemable at the concession stand. After finding the perfect pumpkin, locate a decorating table and decorate your pumpkin before taking a photo with VIP. Pictures will be instantly printed. Due to the nature of this event there will be NO DAY OF registration. Pre-registration required by Wednesday 10/21 to ensure everyone attending is able to enjoy the event. Children must be accompanied by an adult.
Date: Friday October 23rd
Location: Upper Lake Park - Area 1 Check-in
Check In - Area 1
Time: 5pm OR 6pm SHARP!
Fee: $8/child. Parents are free.
Pre-registration required